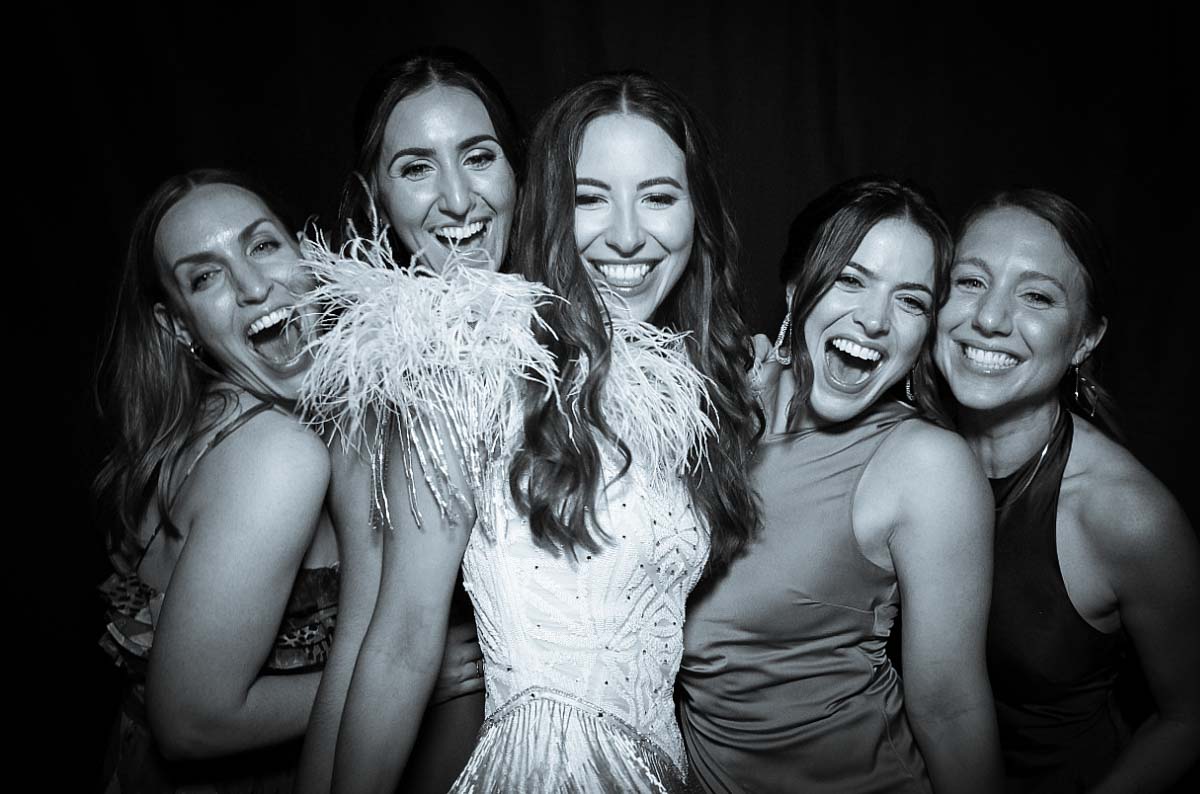 We supplied an elegant Coral Gables Photo Booth In Black And White setup for Karen and Joel's 1920's themed wedding celebration at the beautifully scenic Vizcaya Museum & Gardens in Miami. The photo booth was an instant hit with the guests, who lined up all night to be photographed and receive their sophisticated black and white prints immediately after their session. Our photo booth rental Miami is vital in making the memories of your event last a lifetime.
Five Reasons To Choose A Photo Booth For Your Wedding
Fun and entertainment: A Coral Gables Photo Booth is a great source of entertainment for guests, providing them with a fun activity to do during the reception. It allows guests to take silly and memorable photos with their friends and family.
Unique memories: A photo booth captures candid moments that may not have been captured by the wedding photographer. It also provides guests with physical copies of their photos as a keepsake to remember the special day.
Customizable: Many photo booth companies offer customizable options such as personalized backdrops, props, and prints to match the theme of the wedding. This allows the couple to create a unique and personalized experience for their guests.
Accommodates large groups: A photo booth can accommodate large groups of people, making it a fun activity for families and groups of friends. This allows for even more memories to be captured and shared.
Easy setup and cleanup: A photo booth is easy to set up and requires minimal cleanup, making it a hassle-free addition to the wedding reception. It also allows for the couple and their families to enjoy the day without worrying about additional setup or cleanup duties.
Are you looking for a fun way to take your Coral Gables Wedding to the next level?
Whether you're looking for some fun branding opportunities or just want to add an extra element of fun to your event, our Coral Gables Photo Booth is the perfect choice. Contact us today to learn more!
Lensology Photobooth is south Florida's 's most trusted Photo Booth company. Local to Coral Gables we provide professional services including South Florida Wedding Photo booth ,Coral Gables Photo Booth , South FL Bar/Bat Mitzvah Photo Booth and beyond!
As professional photographers who also run LENSOLOGY-PHOTO-VIDEO-MEDIA, South Florida's top photography and videography company, we decided to create a local photo booth Service that will give first class quality and delivery every time… call now!